Environmental Mitigation Projects
The Chatfield Storage Reallocation Project participants will undertake on-site and off-site environmental mitigation at Chatfield State Park to address environmental impacts of storing more water in the reservoir.
For updates on construction activities and park facility closures, please visit the Construction Updates landing page.
PURPOSE AND NEED: The FR/EIS identified that, whereas on-site mitigation is preferred, off-site mitigation would be required to fully mitigate for impacted targeted resources and lost Cottonwood trees due to limited on-site opportunities.
ENVIRONMENTAL MITIGATION: The FR/EIS assumed that the vast majority of the environmental mitigation would need to occur off-site, estimating that 711 ecological function units (EFUs) would be required from off-site mitigation. To meet the FR/EIS goal to maximize on-site environmental mitigation to the greatest extent possible, the Chatfield Reservoir Mitigation Company has greatly expanded the environmental mitigation on-site along both Plum Creek and the South Platte River to gain PMJM, wetland and bird habitat. As a result, off-site mitigation needs have been greatly reduced to 108 EFUs.
Off-site mitigation opportunities are being pursued for bird and PMJM habitat, and Cottonwood protection and recruitment through conservation easements within the riparian conservation zone (RCZ) of main stem Plum Creek and West Plum Creek. The easements will be held by the Douglas Land Conservancy.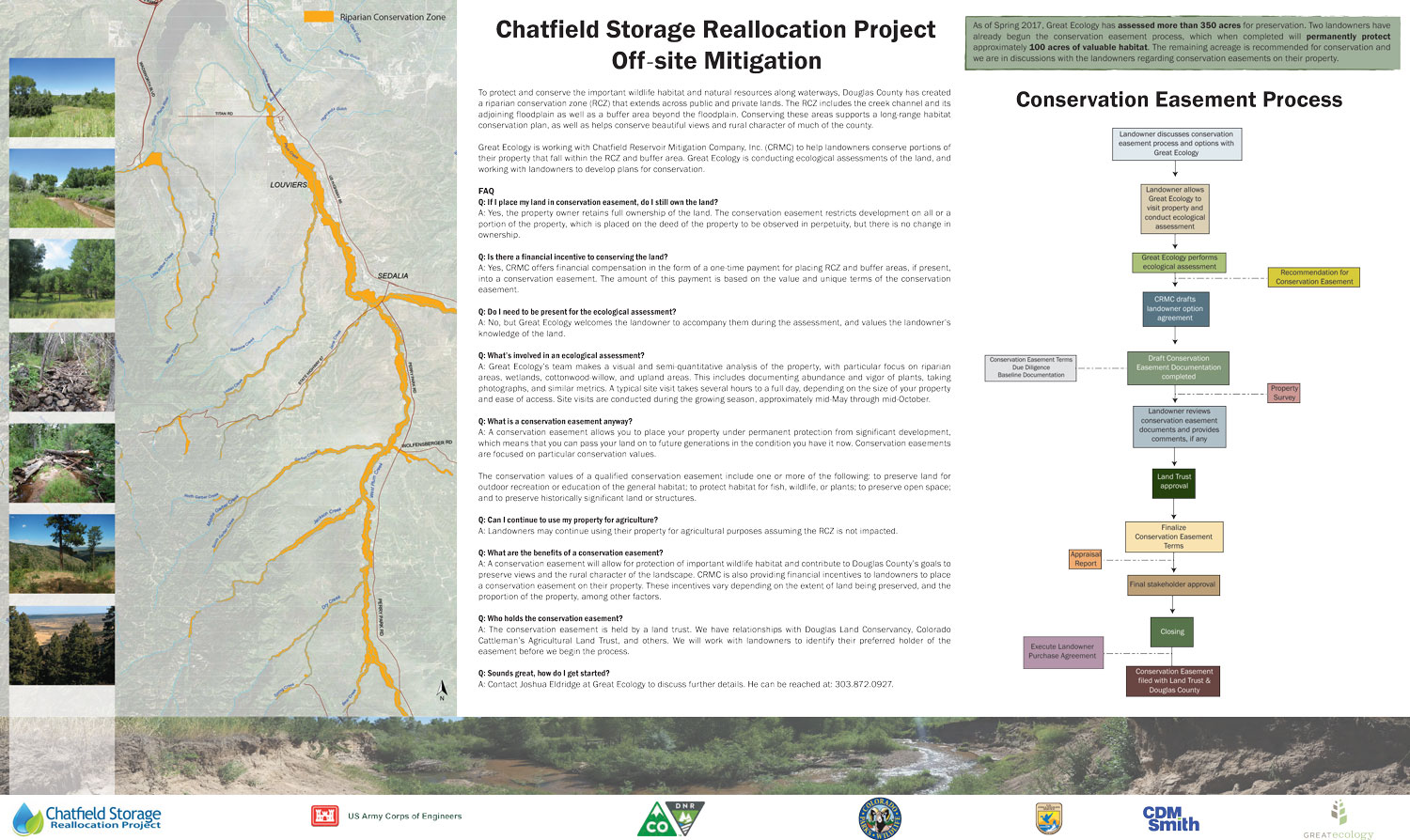 PURPOSE AND NEED: The FR\EIS identified that, whereas onsite mitigation is preferred, that off-site mitigation would be required to fully mitigate for targeted resources and lost Cottonwood trees. The Sugar Creek project, located 19 miles upstream of the Reservoir along 4.5 miles of Douglas County Road 67 within the Pike National Forest, is designated critical habitat unit for the PMJM. Sediment from the gravel road CR67 and adjacent decomposed granite hillside have threatened PMJM habitat and impacted wetlands along Sugar Creek.
ENVIRONMENTAL MITIGATION: Through separate agreements with the USFS and Douglas County, improvements will be made to CR67 that include: asphalt paving of a portion of CR67, road embankment and cut-slope stabilization, culvert replacement, small mammal passageways, sediment traps, and ditch erosion control. Habitat enhancement measures will also be made to the Sugar Creek riparian area to provide PMJM habitat. The agreements, both of which have been approved by the parties, also include requirements for maintenance of improvements.
For more information, view our technical resources.